Product Highlights
Type: Gold Colored Glue Sticks
Bonds: General Purpose - Multiple Substrates
Temperature: High Temperature
Stick Size: Available in 1/2" Sticks
Gold Colored Hot Melt Glue Stick Overview
The Infinity Melt gold glue sticks add flare to any hobby & craft project.  These solid colored glue sticks are made from our most popular general purpose clear hot melt and then dyed with color.  
These gold hot melt glue sticks are applied with a standard temperature 1/2" hot melt glue gun. They are a general purpose hot melt with a strong bond to a wide range of substrates and have a medium open time of around 25 seconds. 
Gold Colored Glue Sticks Per Carton
1 LB of glue stick (size 1/2" X 10") is approximately 16 glue sticks
5 LB of glue sticks (size 1/2" X 10") is approximately 80 glue sticks
In Stock, Ships Today!
Our other colored hot melt sticks include glitter gold, glitter silver, glitter green, glitter red, yellow, light blue, dark blue, red, dark green, light green, brown, white, gold and silver.
Reviews
Customer Reviews
Write a Review
Ask a Question
Filter Reviews:
gold
sculptures
game-changer
glue gun verses anything
areas
inexperience
circle
materials
adhesive
color
07/27/2020
Ianna F.

United States
Happy Art
I ordered and am currently using the gold colored hot glue on my ceramic sculptures as an adhesive and as an element in the work. It's been so fun to work with it and can achieve pretty awesome drips. The materials one use matter so when I got myself an awesome dual-temp glue gun and ordered the gold hot glue, it was a game-changer in my work. Very pleased. Product arrived in a timely manner. Will order again ;)
07/08/2020
Cindy S.

United States
Gold glue sticks
The glue sticks melt nicely, beautiful color, trying to lay a continuous smooth flow in a circle proved a little difficult, and was left with thicker areas, thinner, and difficult to blend together, but that could be a combination of my inexperience with thicker glue sticks, as I am use to the smaller sized sticks and gun flow, and maybe the quality of my glue gun verses anything else. I didn't see smaller sized glue sticks in gold, not sure if there was, but probably would have worked easier for me and my application it was used with.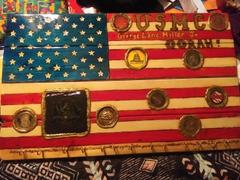 Questions about this product? Our team of adhesive specialists can help. Submit your questions and we'll get you answers right away.
Guaranteed Safe Checkout
Your payment information is processed securely. We do not store credit card details nor have access to your credit card information.
Your Recently Viewed Items