Product Highlights
Options: 1/2" Glue Sticks
Features: Crystal Clear | General Purpose
Average Joe Clear Hot Melt Glue Stick Overview
Don't let the name fool you, Average Joe hot melt is a major step up from your craft store brand glue stick. Average Joe is a crystal clear glue stick with the ability to bond to a huge number of surfaces. It works great on wood, paper, foam, fabric as well as some plastics and light metals. 
Did we mention Average Joe is clear? This product is the most clear hot melt we have come across and does so without sacrificing performance. Average Joe is available in standard 1/2" glue sticks and should be applied with a standard temperature hot melt gun. 
Average Joe Application Recommendations
Must use standard 1/2" hot melt gun
Must use a high temperature glue gun (also called standard temp)
Recommended guns of minimum 80 Watts 
Quantity of Average Joe Glue Sticks Per LB
1 lbs of glue stick size 1/2" x 10" is approximately 18 glue sticks

5 lbs of glue stick size 1/2" x 10" is approximately 90 glue sticks

10 lbs of glue stick size 1/2" x 10" is approximately 180 glue sticks
Applications
Templating
Hobby & Crafts
Home Repairs
Product Assembly
Reviews
Customer Reviews
Write a Review
Ask a Question
Filter Reviews:
glue
sticks
projects
case
customer service
price
length
companies
aesthetics
models
09/26/2021
Cheryl B.

United States
Awesome product!
I can't say enough positive things about this glue. I make and sell wreaths on Etsy. This is the only glue I use. It dries crystal clear and never distracts from the final product.
08/02/2021
Victoria S.

United States
Perfect
These hot glue sticks are what I've been looking for! They're strong, clear & I love them!!!
07/01/2021
Island H.

United States
Above average
I like hotmelt glue sticks mainly because they do not drip out of the heat gun nozzle. They are cost effective in comparison to other venders, they melt clear and become opaque as they dry. They are consistent in melting so the glue gun trigger does need to be over pressed. the glue is sticky and keeps what ever is being glued in place.
06/19/2021
Victoria S.

United States
Finally!
I've been a crafter for , let's just say a long time. This is what I've been looking for!!!
04/19/2021
Kimberly M.

Canada
Average Joe at High Temperatures
This glue worked great. It was easy to use in my Ranger Pro glue gun. Though it did not matter to me for this application, it dried perfectly clear as the name says. I used it to wick a few hundred candles and have burned half a dozen or so and the glue held metal to glass even when the glue was submerged in hot liquid wax (140F) for four to five hours. I expect that it will hold for all my candle customers as well. I bought two other glue types that seemed to be "tougher" but I have not needed to try them because this one did the job I needed it to do. I would definitely buy Infinity Average Joe Crystal Clear again and would recommend it for applications where you need the glue to be clear or for candle wicking.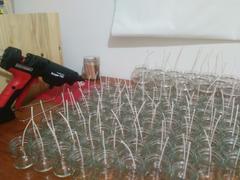 Questions about Average Joe? Our team of adhesive specialists can help. Submit your questions and we'll get you answers right away.
Guaranteed Safe Checkout
Your payment information is processed securely. We do not store credit card details nor have access to your credit card information.
Your Recently Viewed Items