Color: Clear
Bonds: PP, PE, PET and PVC Plastics
Available Sizes: 1/2" Hot Melt Sticks
Quantity: 22 LB Case
Infinity SuperTAC 500 Plastics Hot Melt Overview
If you want to bond plastic, and only plastic, use Infinity SuperTAC 500. SuperTAC 500 is excellent for bonding PP, PE, PET and PVC plastics. It offers as strong of a bond to a wide variety of plastics making it a favorite for specialty product assembly and manufacturing applications like battery assembly and construction. 
SuperTAC 500 Important Features
High temp hot melt
Medium open time
Nearly clear
Strong bonds to PP, PE, PET and PVC plastics
Decent bonds to other porous substrates
Great for bonding:
PP, PE, PET and PVC Plastics
SuperTAC 500 Compares To or Outperforms: 
3M 3731
3M 3764
Surebonder 707
TEC Bond 1941
Ad Tech 265
Specifications
Viscosity @ 350°F (177°C), Centipoise 15,250 Brookfield Thermosel
Softening Point °F (°C) 214° (101°) ASTM E28-67
Specific Gravity .88 ASTM 1475
Open Time: 30 Seconds
Set Time: 20 Seconds
Color Milky: White
Resources
Infinity SuperTAC 500 Technical Data Sheet (TDS)
Infinity SuperTAC 500 Safety Data Sheet (SDS)
Reviews
Customer Reviews
Write a Review
Ask a Question
Filter Reviews:
glue
plastic
superTac 500
application
polyethylene
glue sticks
order
STUFF
bond
adhesive
12/04/2022
James K.

United States
Sticky stuff!
Tough and sticky, I used SuperTAC glue sticks to repair a lawn tractor seat that had entirely separated from the ABS plastic frame. Really happy with the product!
08/31/2022
Brijido S.

United States
Review
Great product would purchase again
06/17/2022
Brijido S.

United States
Great product
Great product would buy again
05/25/2022
amir l.

Israel
Excellent material
Repair of a crack in a kayak made of polythene. Adheres well. It is important to work at high temperature with the glue gun
05/23/2022
Jeff K.

United States
Repaired the Trashed Can
A car hit my $85 trash can and broke it pretty severely. When the collectors picked the can up with the "jaws", it further damaged the can. So I order a gun and the recommended glue sticks from Hotmelt and seemed it back together. After a month it's still holding up to the "jaws". Very impressive!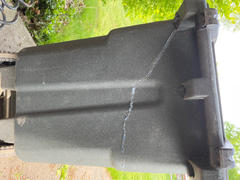 Questions about Infinity Bond SuperTAC 500? Our team of adhesive specialists can help. Submit your questions and we'll get you answers right away.
Guaranteed Safe Checkout
Your payment information is processed securely. We do not store credit card details nor have access to your credit card information.
Your Recently Viewed Items