Product Highlights
Color: Amber
Bonds: Any difficult to bond surface or substrate
Available Sizes: 1/2" and 5/8" stick sizes
Quantity: 25 LB Case
Infinity SuperTAC 11 Hot Melt Glue Stick Overview 
Infinity SuperTAC 11 hot melt is an incredibly unique formulation, able to bond many substrates that traditional glue sticks cannot. Great for plastics, metals, ceramic, wood and much more, SuperTAC 11 carries industrial strength for a hot melt adhesive. SuperTAC 11 also offers excellent high heat resistance and great flexibility in low temperatures. 
The ability to bond so many different surfaces makes SuperTAC 11 an excellent choice for product assembly, manufacturing, construction and more. This hot melt can often replace polyamide hot melt sticks while offering a significant cost savings.
SuperTAC 11 Important Features
Applied with high temp glue gun (we recommend an industrial gun with 200 Watts or more)
Flexible, even at low temperatures
Great heat resistance
Medium set-time
Excellent for any difficult to bond substrate
Medium viscosity (thickness)
Great for bonding:
Plastics
Metals
Wood
Ceramic
Any difficult to bond substrate
SuperTAC 11 Compares To or Outperforms: 
No Similar Sticks Available
Can often replace polyamide hot melts like 3M 3748, TEC 7718, Ad Tech 700.
Specifications
Application Temperature: 380ºF to 420ºF 
Viscosity @ 350ºF: 4,800 cps 
Softening Point: 300ºF 
Open Time: Fast 
Color: Amber 
Form: 1/2" & 5/8" 
Shelf Life: Indefinite
Resources
Infinity SuperTAC 11 Technical Data Sheet (TDS)
Infinity SuperTAC 11 Safety Data Sheet (SDS)
Reviews
Customer Reviews
Write a Review
Ask a Question
Filter Reviews:
candle wicks
glass
solution
10/11/2021
Kara B.

United States
12/02/2019
SYLVIA R.

United States
Super tac 11
Very good ,melts fast and holds very strong
Almost everything
Product is great it really sticks to almost everything and by almost everything it did not stick to glass, well for a couple days I glued a piece of plexiglass over a broken rear window in my truck it lasted a couple days and then came loose on the very next rain storm. I glued it to the broken pieces stuck to the window frame should have been a good substrate other than that the glue works well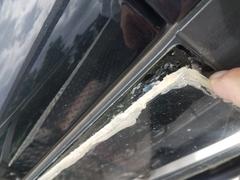 good flexible high adhesion glue
I bought this as a possible cheaper alternative to polyamide hot melt. I haven't done more than some initial testing at this point, but I will share what I have observed. The SuperTAC has a lower melting point than the polyamide and flows more. It does seem to get air bubbles in it and be a little bit foamy which makes it a little bit harder to apply accurately in precise assemblies. It adhears very well to sanded metal and wood (my application) with a flexible bond even at low temperatures. The Polyamide is more rigid and doesn't handle flexing as well. It is very difficult to clean off any squeeze out from the SuperTAC because it adhears so well. The Polyamide can be cleaned off of smooth surfaces by snapping it off. It is nearly impossible to do that with the SuperTAC. The SuperTAC seems to have better adhesion than the Polyamide, but I haven't done any shear tests.
Questions about this product? Our application specialists can help. Submit your questions and we'll get you answers right away.
Guaranteed Safe Checkout
Your payment information is processed securely. We do not store credit card details nor have access to your credit card information.
Your Recently Viewed Items