Type: Industrial/Electric
Stick Size: Bulk Hot Melt or Slugs
Glue Gun for Dispensing Bulk Hot Melt - 5 Ounce Reservoir
This bulk hot melt gun with 5 ounce melt chamber is ideal for low volume bulk hot melt dispensing applications. The melt chamber allows users to dispense many kinds of bulk hot melt like pressure sensitive, APAO, fugitive and more. Many of these types of hot melts cannot be formed into sticks so larger equipment is required. This bulk 5 ounce, all electric glue gun offers lower cost option for using and testing these types of adhesives. 
The melt rate for this bulk hot melt glue gun is 1LB per hour and it does not require a compressor to dispense. 
Specifications
Pot Capacity: Approx. 4 oz. (AX-80) 
Heat up Time: Approx. 10 minutes
Max. Output: Approx. 4 oz. Per minute
Heat Output: 200 Watts Max.
Operating Temperature: 400° F
Power Source: 120 vac, Single phase 60Hz 2 amps
Reviews
Customer Reviews
Write a Review
Ask a Question
Gun works, difficult to set temperature.
While the gun works fine, it is difficult to accurately control the temperature. Gun was purchased in part because it offered a thermostatically controlled adjustable temp. However, there are no markings on the temperature adjuster, and the adjuster requires a screwdriver. Using a digital thermometer is difficult to accurately gauge the temperature because readings vary quite a bit depending on how the thermometer is aimed.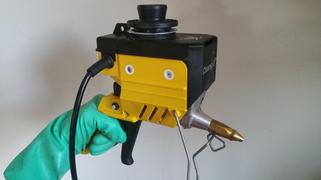 fhjnhdtjdnrhjnmftydm, ve
d gntytfmdddyk b srfmsrjrreurnrun
Questions about this product? Our team of adhesive specialists can help. Submit your questions and we'll get you answers right away.
Guaranteed Safe Checkout
Your payment information is processed securely. We do not store credit card details nor have access to your credit card information.
Your Recently Viewed Items