Brand:

Infinity Bond

Type:

Hot Melt Glue Gun

Gun Type:

Industrial

Temperature:

High

,

Low

,

Adjustable

Adhesive Size:

5/8" Sticks

,

5/8" Q Sticks
The Infinity Bond BRUTE - Demand More from Your Hot Melt Glue Gun

The Infinity Bond Brute 5/8" hot melt glue gun is designed for users who need high glue output and a hot melt gun that can keep up with industrial demands. The Brute boasts a 500 Watt adjustable temperature heater for greater output and durable design. Easily adjust the temperature on the Infinity Bond BRUTE between 265-445F allowing for use of both high and low temperature hot melt. 
Even though the Infinity Bond Brute offers high volume dispensing and an industrial design, it weighs in at just over 1.5 Lbs making it perfect for all day use. The Brute comes standard with a reinforced power cord to protect it from being cut or damaged in shop environments. 
And finally, the Infinity Bond BRUTE hot melt glue gun comes with durable 8" x 8" silicone pad for keeping tables and other surfaces clean and glue free. 

Disclaimer: Will not dispense 3M 3798LM Gummy Glue

Features of the Infinity Bond™ Brute
Powerful 500 Watt heater
Adjustable temperature control
Compatible with 5/8" glue sticks and 3M "Q" sticks
Long, Durable Power Cord with Metal Coil Reinforcement
Lightweight and robust design
Includes silicone drip mat
Stroke adjuster allows user to pre-set the amount of glue for precise output
Works with 3M Quadrack (Q) sticks
Infinity Bond Brute is one of the only non-3M glue guns that work with regular 5/8" glue sticks and 3M quadrack glue sticks, otherwise known as "Q" size glue sticks.
We've got the Infinity Bond Brute in-house. Not only does it work well with Q sticks, The Brute also has an adjustable temperature control, making it possible to dispense both high-temp and low-temp glue sticks — for a fraction of the price of other quadrack applicators.
Nozzle Attachments for the Infinity Bond Brute
Why Buy from Hotmelt.com
Hotmelt.com offers a low price guarantee on the Infinity Bond Brute glue gun, nozzles, and accessories. This is a stock item and available to ship the same day. Questions? Contact one of our hot melt experts for solutions to all of your bonding needs (877)933-3343.
Specifications
Operating Voltage: 120V
Wattage: 500 Watt
Heater Type: Cartridge
Trigger Feeding: Mechanical
Operating Temperature: 265-445F
Heating Time: 5 minutes
Glue Stick Diameter: 5/8" (15mm)
Nozzle: Interchangeable
Ergonomic Weight: 1.8 lbs
Reviews
Customer Reviews
Write a Review
Ask a Question
Filter Reviews:
service
product line
ordering
couple
glue gun
prices
company
12/13/2022
Lou V.

United States
Office Manager
Great service !!!!!!!!!!!!!!!
11/04/2021
Ramunas B.

United States
Best gun
Was looking for good glue gun .and this one its the best glue gun ever.
09/18/2020
AJ s.

United States
Good products & easy to deal with
We've dealt with the company about a dozen times throughout the years. So aside from ordering and a couple inquires we really haven't had a lot of interactions customer service. But for us that's a good thing, using their service is seamless and they offer a good product line at competitive prices.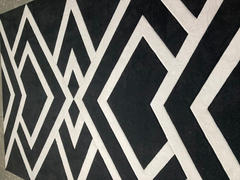 Questions about Infinity Bond Brute? Our team of adhesive specialists can help. Submit your questions and we'll get you answers right away.
Guaranteed Safe Checkout
Your payment information is processed securely. We do not store credit card details nor have access to your credit card information.
Your Recently Viewed Items